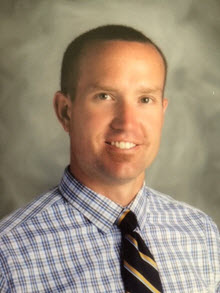 Scott Baldwin
baldwisl@pwcs.edu
Dear Haymarket ES Community Partners,
As the 2023-2024 school year quickly approaches, I am reminded of the partnership and hard work that we have all shown for the sake of our students. It has been challenging, but we persevered, and our students continue to grow in so many ways beyond test scores and numbers. I am so excited to be leading Haymarket Elementary School again this year…my 6th as the Principal! Our students, with the support of our teachers and parents, will continue to learn and grow as HMES Cubs!
Over the past 20 years, I have worked as a teacher and administrator, but I consider my most important job to be that of a child advocate. I will spend a lot of time with your children, getting to know their personalities, learning styles and interests. I will celebrate their successes, small and large. I will encourage them every day and let them know they are valued and have a special place in our school community. Safety is my #1 priority each day and students are reminded of that through broadcast, Family Meetings with each grade level, and more. Besides safety, we promote responsibility, respect, and kindness in everything we do.
Not only am I excited to begin working with your children, but I look forward to the work we will continue to do together. Each year we develop a continuous improvement plan after hours of sifting through data to determine what areas we can improve upon. I look forward to sharing what we have done and getting your input on our work. This engagement can best be utilized at our monthly Advisory Council meetings (you will get email reminders and dates/times will be in monthly newsletters). And of course, I will be here to work with you should they need any help navigating any aspect of the school day.
My goal is to ensure that all children are healthy, happy, and safe, so they will be begging you to come to school each day! This has been my driving force since I began my career teaching with Manassas Park City Schools back in 2003. I worked at both Cougar Elementary School and Manassas Park Elementary School during which time I taught 2nd, 3rd, and 4th grades. I had the wonderful opportunity to gain valuable experience teaching students with special education needs as well as English Language Learners. After teaching in Manassas Park for 9 years, I was fortunate to join the Bristow Run Elementary School team as their Assistant Principal in 2011. Some of my many responsibilities included crisis management coordination, transportation, safety, special education, intervention, instructional leadership, and more. I then moved to G.C. Round Elementary School in Manassas City in 2015 where I was a building principal and had the honor and privilege to support hundreds of diverse learners each day. But my greatest achievement comes not professionally, but personally, as I am the father of two beautiful girls and a handsome little guy: Reese (10), Shay (8) and Trace (4). Last, but certainly not least, I have been happily married to my wife, Audrey for 16 years now. She currently works as a ESOL teacher at Loch Lomond Elementary School.
Once again, I am thankful each day to have the opportunity to come serve our amazing community and see everyone's smiling faces. I look forward to continuing our upwards trend this school year. Please know I will work tirelessly to ensure all your children have positive experiences while at Haymarket.
Your partner in continuous improvement for all,
Scott Baldwin
P.S. Don't forget to follow Haymarket ES on Facebook and Twitter (@haymarketcubs) for updates!