Unified Mental Health Team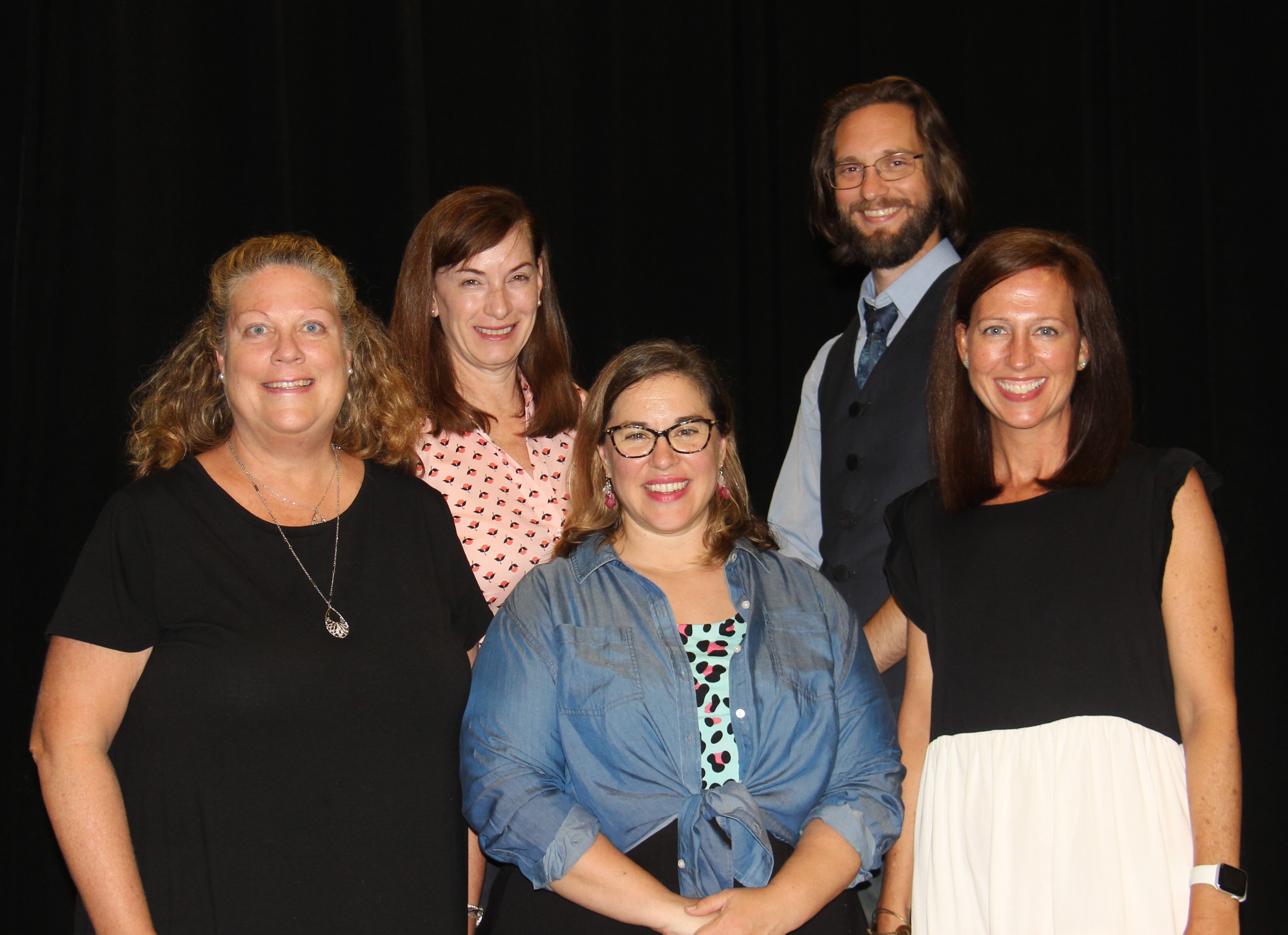 Back Row: Mrs. Martin, Dr. Thaxter
 Front Row: Ms. Poore, Mrs. Schenck, Mrs. Criser
School Counseling Program
Mission Statement
The mission of the Haymarket Elementary School Counseling Program is to develop students' personal, social, academic, and career success by removing barriers and promoting world-class education, in a safe, respectful, and motivating school environment. Through a data-driven, collaborative partnership of school staff, parents, and the community, students are prepared for lifelong learning and productive citizenship.
Vision
Students will thrive globally with high expectations for positive personal growth in excellence and achievement.
Philosophy and Beliefs
Professional School Counselors at Haymarket Elementary School believe:
All students are unique and worthy of dignity and respect

Every student is capable.
It takes a village!In order for all students to succeed, the school counseling program must work collaboratively with professionals within and outside of theHaymarket community.

All students have the right to feel safe in their learning environment.

In order to succeed, a student's most basic needs must be met. If that is not the case, the school counselor will assist that child to obtain what they need.

Every student is entitled to an environment where their individuality is appreciated and encouraged within the framework of a classroom setting.

Not all students demonstrate their ability strictly through academics. Additional programs should be in place to recognize the whole student and prepare for post-secondary opportunities.
Students,teachers,and parentsof theHaymarket community deserve advocatesto ensure equity and access to education.

School Counselors are leaders within their building and division.

School Counselors are advocates for all students and stakeholders at the local, state, and national level.

Sometimes, the school setting may be the only place a child's needs are met and we must ensure academic, career, and social/emotional growth and development.

Students should be set up for success!
Virginia Cooperative Extension, PWC
Strengthening Families through Education
www.pwcgov.org/parenting
Classes starting soon! Please see the attached flyers and registration forms (in the 'Files and Documents' tab to the left, in the Parent Workshops/Classes folder) for:
· Systematic Training for Effective Parenting (STEP)
· When Families Get Angry (WFGA)
· Juvenile Justice Parenting Program (JJPP)
· Spanish parenting classes
· Parent Education Registration Form - pre-registration is required
The information can also be found at: www.pwcgov.org/parenting
Classes starting soon!
Juvenile Justice Parenting Program (JJPP), Manassas, VA
For Parents of At-Risk Teenagers

or
Juvenile Justice Parenting Program (JJPP), Woodbridge, VA
For Parents of At-Risk Teenagers


When Families Get Angry (WFGA) in Spanish, Manassas, VA
Systematic Training for Effective Parenting (STEP), Nokesville, VA
for Parents of Teenagers and a class for Parents of Young Children (b-5 yrs)

If you have any questions, please contact 703-792-6288 or visit our website at: www.pwcgov.org/parenting.
The Haymarket Comprehensive School Counseling Program includes:
Classroom Guidance - lessons taught by the counselors to enhance academic, personal/social, and career success.
Individual Counseling - on a limited basis, with referrals to community counseling agencies as needed.
Small Group Counseling - to practice skills for school success, sometimes a small group of students are working on a similar goal or skills and working in a smaller setting is the ideal structure for achieving these goals.
Consultation & Coordination - with parents and school staff to implement strategies for school success.

School Counselors
Help resolve problems that interfere with learning;
Counsel individuals and groups;
Conduct classroom guidance activities;
Facilitate educational activities that help students understand the responsibilities of work and participation in school;
Provide opportunities for students to work cooperatively;
Coordinate with school staff and community resources to assist students;
Support students with special needs; and
Offer crisis intervention and prevention.
Classroom Guidance Lessons
Your School Counselors work with grade levels to develop a curriculum delivery plan for all grades, from the new American School Counseling Association (ASCA)'s Mindsets and Behaviors standards. These standards are grouped into 2 Categories, 1. Mindsets standards we teach children, regarding their view of themselves as student workers (academic work), and 2. Behaviors standards we teach children, which are behaviors associated with being a successful student. The Behavior standards are grouped into 3 subcategories, a. Learning Strategies, b. Self-Management Skills, and c. Social Skills. These standards are taught in conjunction with an emphasis and focus on Guidance's three broad domains: Academic, Social/Emotional and Career Development to support learning and career readiness for all students.
We look forward to seeing your students in their classroom environment!

CHARACTER COUNTS!


Students are taught the 6 pillars of character and the acronym TRRFCC (terrific).
Character Counts at Haymarket, We are TeRRiFiCC!!
Bully Prevention
Here at HMES we do not tolerate any form of bullying. If you feel like your child is being bullies, please contact any of the counselors.
Definition of Bullying (from PWCS Regulation "Bullying of Students"): Bullying means any aggressive and unwanted behavior that is intended to harm, intimidate, or humiliate the victim; involves a real or perceived power imbalance between the aggressor or aggressors and victim; and is repeated over time or causes severe emotional trauma. "Bullying" also includes cyber bullying, which involves the transmission, receipt, or display of electronic messages and/or images. Bullying does not include ordinary teasing, horseplay, argument, or peer conflict.
Here are some suggestions if you see bullying happening in your neighborhood. These suggestions are from the Olweus Bullying prevention program:
1. Stop the Bullying make sure all children are safe
2. Support child who has been bullies
3. Name the bullying behavior
4. Engage the others who are around and ask them what they saw
5. Let the parents of all parties know about the bullying behavior
6. Take steps to ensure the bullies student will be protected from future bullying (i.e. let parents and school know about the bullying situation).

We teach the students that 3 things must be occurring to be considered bullying:
1. Someone is doing somethingmean
2.Repeatedly, over and over
3. ForPowerorControl

Students are always encouraged to tell the nearest adult, classroom teacher, counselor, parent, principal, or any trusted adult if anything is bothering them. We also teach problem-solving strategies to help students deter and prevent situations that may be bullying behavior, turn into bullying. Additionally, this year we are introducing simple and effective strategies all students can practice as bystanders, should they see any kind of unkind behavior. See below for more details on all strategies.

Please find a handout in the 'Files and Documents' section entitled Bullying - What Parents Should Know About Bullying for more information.
People Problem-Solving Star
All CUBS are taught the People Problem-Solving Star, which highlights 5 strategies students can use to help solve problems or conflicts with peers.



The 5 strategies are:
-Ignore, Let is Drop
-Walk Away, Take a Break
-Talk it Out, Ask Questions
-Use "I" and tell them to STOP
-Work it Out, Agree to Compromise

Problems are classified into 2 categories, BIG problems or small problems. Big problems are scary or dangerous (where a person, property or animal could get hurt), and students are to tell an adult/teacher/bus driver/parent right away. A "small" problem is not dangerous and students are encouraged to utilize the above strategies. If students try 2-3 strategies and the problem is on-going, then they are encouraged to get an adult's help.

Additional literature used to teach problem-solving, build self-esteem and self-worth, bully prevention and building a positive community are:
One, by Kathryn Otoshi, teaches how to stand up for yourself and others
Zero, by Kathryn Otoshi, teaches self-worth
Band-Aid Chicken: A Program about Resisting Peer Pressure, by Becky Rangel Henton, teaches about resisting peer pressure and standing up for what is right!
Cliques Just Don't Make Cents, by Julia Cook, teaches about self-worth and friendship choices.
Simon's Hook (A Story About Teases and Put-downs), by Karen Gedig Burnett and Laurie Barrows, emphasizes 5 strategies for how to deal with teasing.

Students are also taught the Coping Star strategies. These work great any time we are feeling frustrated, worried, anxious or most intense emotions.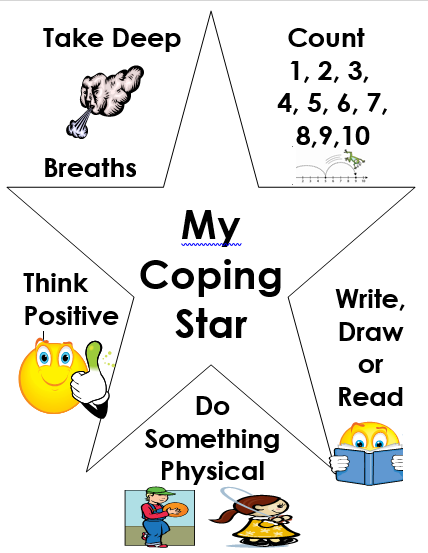 The Bystander Star!
This is helping student with easy, yet effective, strategies to help peers in need. The strategies range from simple, quiet ways to intervene to more bold approaches and offer many options for every student's comfort level. We teach: Be a STAND-UP Bystander, not a Do-Nothing Bystander.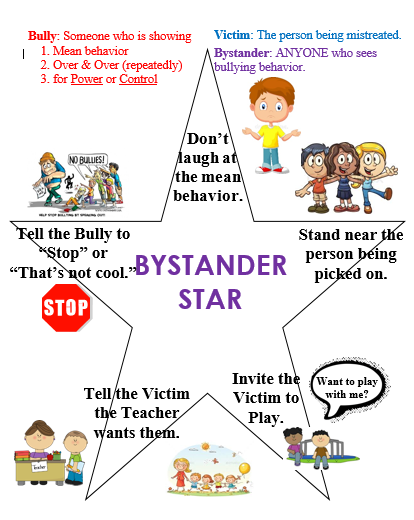 Having a Positive Outlook and PLAN.
We reference Rainbow Thinking with students who are having a defeating or negative self-talk.
Cloudy Thinking (I can't do it)
Sunny Thinking (I can do it)
Rainbow Thinking (I have a Plan)


Robin Hudspeth Schenck - hudspern@pwcs.edu
Sara Criser - crisersw@pwcs.edu
Jenelle McLeod - mcleodj@pwcs.edu
703-468-2800


Emergency Resources:
ACTS Helpline 703-368-4141 1.800.
SUICIDE (24-hour hotline) 1-800-784-2433
Crisis Text Hotline (24-hour hotline) 741741
PWC Child Protective Services Hotline 703-792-4200
PWC Community Services Board 703-792-7800
--------------------------------------------------------------------------------
Area Tele-Mental Health Resources: